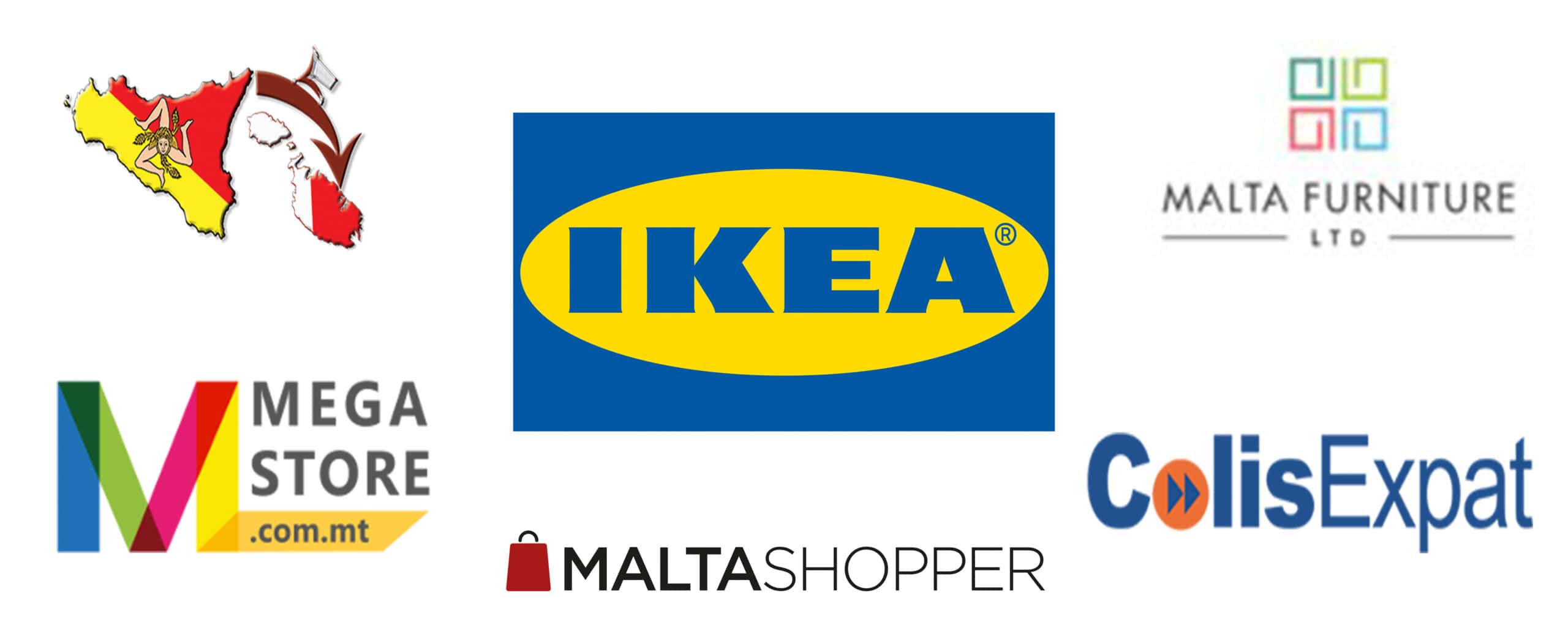 Where to buy IKEA in Malta?
Who doesn't love shopping at Ikea? That's one of the best goods exported from Sweden just after Fika and Rekorderling cider!
We don't have our own Ikea store on the island, but there are some companies out there who are offering to ship Ikea products from other counties.
So far I've been always using Megastore, but I want to check what other shops have to offer!
I will be checking websites and comparing the prices of items and shipping of the following stores:
Let's start with exercise number 1. – Small shopping  up to 100€
First I will fill the cart with the items at ikea.it so we have something to compare with. I will be always adding the same items in all the shops.
So this is just to have a point of reference on these 3 products from Ikea, and their original price. Of course, as you can see I did not include shipping as it's out of Italy, so the total price is irrelevant.
I will be hunting on Maltese websites for:
Forsa desk lamp in gold (19.95€)
Kitchen glove Sandviva (3€)
Bekvam stool (13€)
Here is the final outcome summary of the first exercise – small parcel. You can scroll down for detailed info about each of the shops. As you can see one shop didn't make it to the summary – Colis Expat, as it works with a totally different system, not what I was expecting.
Exercise no 2. – bulky shopping
I want to see if the prices of shipping are different and how our comparison will be affected (if will be affected at all) with bulky shopping. First I will show you by ikea.it example what I will be searching in the online shops
I got in my cart 4 kitchen pieces of furniture for a total price of 749 euro.
You can find them by product numbers:
194.095.79
694.093.22
794.093.31
894.092.84
As usual, that's only for comparison purposes, the price doesn't include costs of shipping to Malta.
Summary of my results of the second exercise you can find in the table here.

Which shop is best to shop Ikea in Malta?
It depends.
If your main concern is only the price – the cheapest option seems to be always Megastore, however quite often I couldn't find a specific product. If you need THE product, specific item from Ikea which is not available at Megastore, my choice would be any other store from the list (for the bigger order, like a set of furniture – Sicily Shopping to Malta, for smaller order Malta Furniture and Malta Shopper seem to be cheaper).
Regarding search on the pages. If I had to find products that had a unique name, and there were not many versions of the same product, it was super easy and nice to find them on Megastore, however, their search really let me down when I had very specific furniture, like a kitchen cupboard, which doesn't have a unique name (under the same name you can find 30 products – different variations, fronts, sizes). On all the other pages I could search by SKU number, which every single product on the IKEA website is different, which made shopping easy and quick.
I got a feeling as if you just wanna browse and search for items on Megastore, without checking what is available on the IKEA website, works fine. They have nicely done categories, and the page is nicely designed. Other websites are rather just to quickly insert a number which you pick up from the IKEA website, and that is where you should primarily browse.
Of course, this is only my opinion and I didn't include other, very important aspects such as: time of delivery, quality of the package, does it arrive safely, the customer service, etc.
Details of comparison
Sicily Shopping to Malta
ex. 1.
The system is quite straightforward, but you have to go to the Ikea website and copy SKU number which you insert later on the shop page. I like that the fact that I can see exactly how much I am paying and for what as before total you can see surcharges and shipping costs added to the original cost of the product.
ex. 2.

In this exercise, all went smooth,  and I quickly filled my cart with the desired furniture. The total price was 913,78 euros.
Megastore
ex. 1.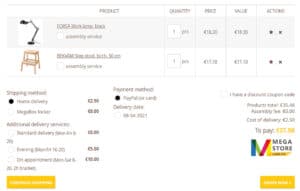 Megastore has a different system. You can see ikea products being sold on their page, with no codes to be copied and pasted. Unfortunately, not all of the Ikea products (available on ikea.it) are available on Megastore. I couldn't find a golden version of Forsa lamp as well as the glove, hence you can see in my cart a black lamp and no glove.
What is really great is that if I choose to pick up the item from the locker, no additional fee for the delivery would be applied (2,50) and if I want they can assembly for me Ikea furniture with an additional fee.  Taking into consideration that the cost of the glove is only 3 euro, a total of 37 for whole shopping is an amazing price.
ex. 2.
It was a big surprise, not a positive one. Since kitchen furniture all have the same names and just different SKU numbers are defining their size and finish I tried to search at megastore by SKU number., but It doesn't work, and I had to search manually for each piece, which can be time-consuming. In addition, I couldn't find the desired front for the furniture or the same sizes. Just for the purpose of the exercise, I used similar furniture but if you planned to have your kitchen with a particular set, it will be a big issue.
The total price was 871,7o euro.
Malta Furniture LTD
ex. 1.
With Malta Furniture the system is slightly different. You have to use codes just as at Sicily Shopping to Malta but it doesn't calculate for you immediately. I had to submit a query, but already after 30 min, they send me an email with a total of 44,94 euros.
ex. 2.
Exercise number 2 with the total amount of 936,25 euros, and I found all without any trouble.
Malta Shopper
ex. 1.

Again had no luck with the kitchen glove! The product wasn't available here as well. Another page where you can insert the code in the search field or if you prefer you can choose types of items from their menu. They offer as well the assembly option, but the total price is 41.19, which is 4 euros higher than Megastore (both stores didn't have a glove in the offer).
ex. 2.
Certain items were not available, that's why I chose something that costs the same. It added up with a total cost of 936,25 euro.
Colis Expat
As you can see I didn't proceed with Colis Expat, because they are not a shop but a shipping company only. The advertisement with the Ikea logo and Malta word (probably created based on my search on google) mislead me to this website. You can read above how does it work, but will not use them for this exercise.
Was this information useful? Let me know in the comment!