Yes, finally I got into upcycling old jeans! I had a massive pile of denim, which wasn't good enough to give to the charity shop, yet I felt like it was still worth keeping it and doing something creative out of it. My excitement for this project was big, as it combines so many things that I love: sewing, upcycling, and creative composition. I had already in hand a sewing pattern from a midi skirt, that I purchased on Etsy some time ago, for another project. I liked the pattern, it was easy and perfect for my body shape (pure pear).
The first step of upcycling old jeans
First of all, I had to choose a few different jeans that I thought they will be matching what I have in my mind. Recently I am so in love with washed-off blues, whites and pastel colours, and it was my first choice of the colour palette. Once I gathered all of the trousers, I had to cut out some nice square and rectangular pieces, as I thought it will be easier to work with those shapes. The next step was to create a composition, trying to create a cohesive look. It was important to check if my pieces are big enough to fit my patterns!
Patchwork
This was the most time-absorbing step! Piece after piece after piece, to put them together. After each stitch I put my pieces on the iron and pressed them with sprayed water and hot iron, to get a crisp line.
From now on, I was treating my patchwork like any other textile, and drawing my pattern, cutting out and sewing together. To make the waistband, I decided to use one piece, not patchwork.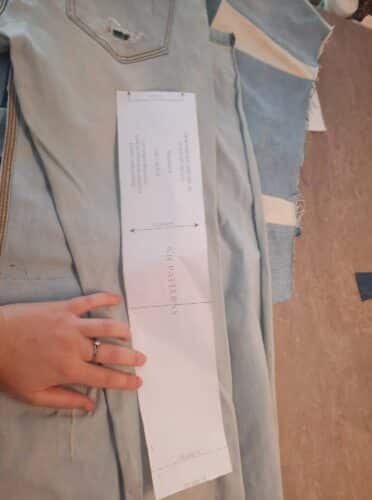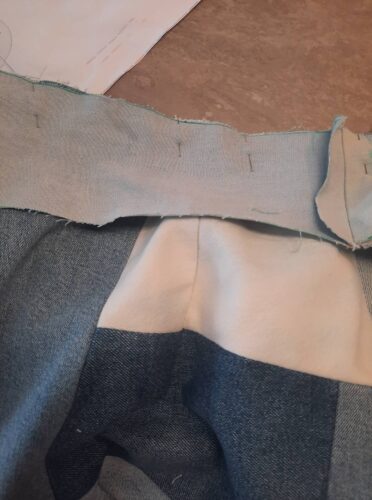 I didn't want to go too short with my skirt, so my 'mini' skirt is just slightly above the knee, but with a nice, long slit on the side. I love to make my own clothes, it allows me to design elements that will fit me and my style. For some reason usually, slits are placed on the left leg, and by making my own skirt, I can actually place it on the other one, to expose a little bit of my tattoo, which is usually covered with clothing.
The final result
I decided to leave the bottom edge raw and 'unfinished' and I love the look. I placed a small, blue zipper on the side and voila! This is one of my favourite creations and I honestly cannot wait to wear it! It's not only the fact of making something myself but as well recycling the old jeans, that otherwise would be thrown away!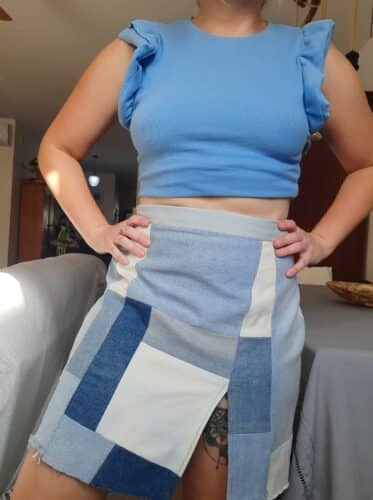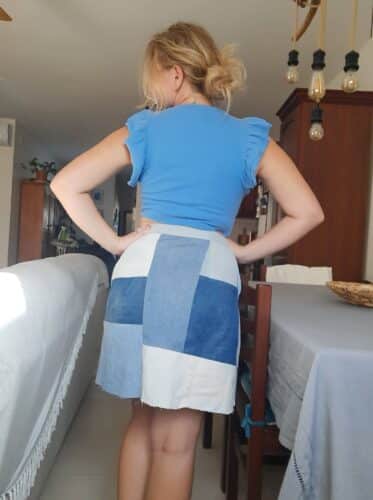 Check out my other sewing projects here!