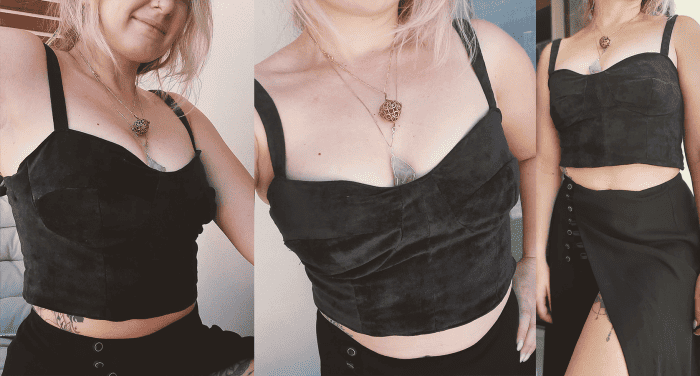 Sewing a bustier from old suit trousers
A nice bustier is a timeless piece. I remember my mum having one when I was a little girl. Now I wanted my own, me-made. I decided to sew a bustier from old suit trousers.
Textile – repurposing old suit trousers
I decided to sacrifice for this experiment my fiance's old suit trousers. I believe he had them in the wardrobe since 3rd grade so it's about time they find a new purpose. I am in love with black suede and I thought this will make a perfect bralette.
Pattern – Etsy
I bought a bustier pattern from Etsy for around 5 euros. So if you ever decide to make it yourself you can find it there together with the instructions. I had to amend it a little bit, as the size of the chest and the cup size are pretty standard for the pattern, and what I needed is to reduce the cup size.
I used almost entire pants to cut out all the pieces!
Sewing – beginner/intermediate level
I followed instructions from the Etsy pattern to join all pieces together which took me around 4 hours! Yes, sometimes I had to redo things!
I installed a zipper on the side and the bustier was ready!
The end result of my bustier
I am pretty happy with the outcome. It is not yet top-notch seam quality but good enough to be able to wear it this summer! What do you think?
Check out my other sewing projects here!