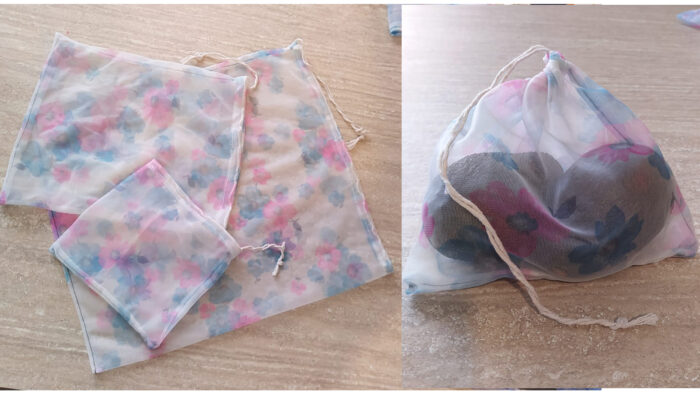 Multi-purpose mesh bags DIY
This is a very little but mighty project of mine. I am using my DIY veggie bag every time I go shopping. It follows the principles of recycling, reusing, repurposing, and helps reduce plastic use. All the best outcomes of DIY. Let's see how I made my multi-purpose DIY bags.

Before getting into the craft let me tell you – I love charity shops! And just behind the corner from the place I live, we have a YMCA charity shop in Zabbar. It became my main spot for donations, as well as shopping. Before I buy something new I always try to find a used alternative if possible. The volunteer at the shop is an angel, always ready to help, advise or just have a chit-chat if that's what you need. I told her as I am looking for some cheap textiles to practice sewing, and she went back to her car to bring me a batch of clothes that were in too bad condition to be put for sale (and basically their life is over), and offer them for free! I am still very grateful as this particular project happened thanks to this girl and the old mesh gown I got.
You can use in this project any textiles, I am super happy with how they came out from the polyester, mesh fabric from the recycled old gown.
You will need:
textile
scissors
sewing machine or needle for hand sewing + thread
some kind of a rope or wool to close the bag
DIY
The first step will be to cut out any size of rectangle your heart desires. I cut out as many as I could from the fabric I had, in total had 6 different sizes of rectangles. Remember as the bag will be half of the size of a rectangle, minus the seam allowance.
Fold your rectangle in half sew the bottom and aside to create a bag shape.
Now I fust folded the edge around (in a way that the top edge is folded outside all around on both sides of the bag) and sew it leaving +/- 1 cm space to create a tunnel for a rope. I was sewing it on a machine, so it was important not to go fully all around but to leave a tiny hole at the end to be able to insert the rope.
I inserted a cotton rope using a safety pin. Secure it at the end and the bag was ready! One of the quickest and easiest DIYs!
Multi-purpose mesh bag
I found for them multiple uses around the house. It's easy to wash them and store them as they don't take any space when folded. They serve me well for:
Shopping veggies and fruits – instead of using plastic bags from the store I try to always have with me a couple of mesh bags. It's easy to see the products through so it helps the cashier to identify the veg,
Keeping together small items in the washing machine.
Storing cosmetics when going to the gym.
And what do you think about making your own multi-purpose bags?
If you would like to check out more of my DIY projects, click here!