DIY Intimate Budget Wedding: Crafting Meaningful Connections and Celebrating Love
Why DIY budget wedding… In a world that often glorifies extravagant weddings adorned with opulent decorations and grandiose venues, there's a growing trend that speaks to the heart of what truly matters – celebrating your special day surrounded by the people you love, without breaking the bank. While a lavish wedding might dazzle with its splendor, there's a certain magic and meaning that comes with hosting a wedding on a budget, where the focus shifts from material excess to the authentic bonds that tie us together.
Picture this: a quaint garden with twinkling lights, or a cozy farmhouse in the middle of nowhere adorned with homemade decorations. Surrounded by close friends and family, every face is familiar, every smile is genuine, and every laugh carries the resonance of shared memories. This is the essence of a budget wedding – an intimate affair that puts relationships at the forefront.
I have to admit we had two wedding parties (as we were not able logistically to bring everyone for one day) first one was the civil ceremony with family and the afternoon at our friendly restaurant, and the second one was in the remote farmhouse.
Embracing the DIY Spirit
If you've ever met me, you'd know how much I revel in DIY projects. Naturally, our wedding was no exception. Below, I've detailed some of the DIY projects that made our wedding truly ours.
Wedding dress no 1
Yes, I made it myself and I am very proud of it! Crafting my own wedding dress was not only cost-effective but also deeply personal. The pride I felt wearing it is indescribable.
The bar sign and flower girl dress
From guiding guests to the bar with a hand-painted sign to dressing the flower girl in a dress I designed, these elements added a bespoke touch.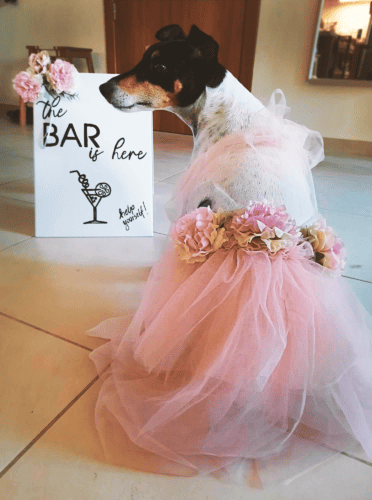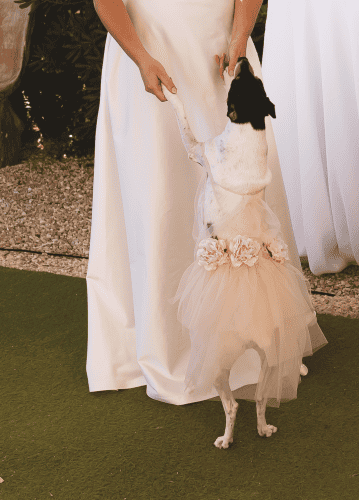 Doing my own make-up
Opting to do my own makeup allowed me to showcase my style and ensure I felt like the best version of myself.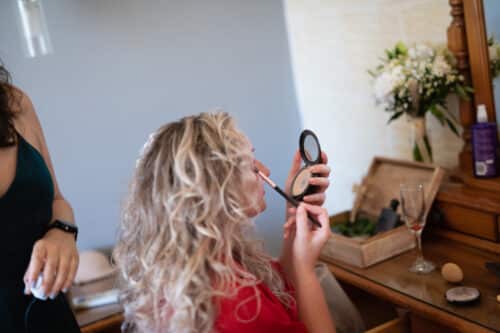 Making my own bouquet
Handpicking and arranging the flowers for my bouquet made it all the more special, reflecting my personal taste and using wildflowers from the fields around me.
Arranging the bride's accessories
Choosing and arranging my own accessories ensured I felt radiant and true to myself. For this, I resued a small wooden box which I already owned, and leaves from the garden.
Making customized favors
Personalized favors were our way of thanking our guests for their love and support. We bought simple notebooks, with lavender seeds on the cover, which can be planted after using the notepad. In every notebook, we wrote personalized letters for every guest.

Using outdoor brunches
Incorporating nature into our decor through outdoor branches added a rustic charm.

DIYing nametags
Crafting our own nametags added a personal touch to our seating arrangements. For this project I used pebbles.

Choosing a homey farmhouse with a view over the wedding venue
Choosing a cozy farmhouse overlooking our venue set the perfect ambiance for our intimate celebration.

Creating table decorations
Handmade table decorations added charm and character to our dining setup.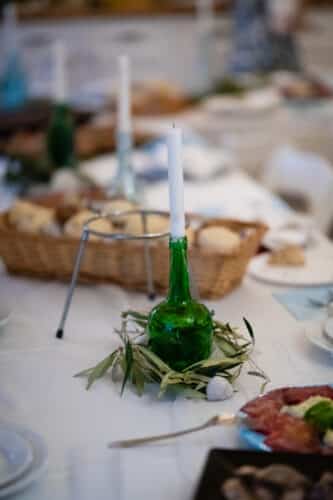 Making my own wedding dress no 2
Yes, I crafted a second wedding dress, and it was every bit as special as the first!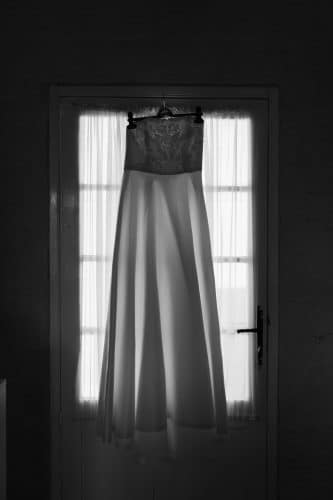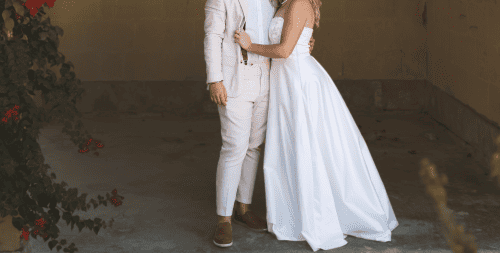 Budget weddings, with their emphasis on personal touches and genuine connections, remind us of what truly matters. They prove that you don't need to spend a fortune to have a memorable and meaningful celebration.
Check out my other articles on DIY projects and Sewing.