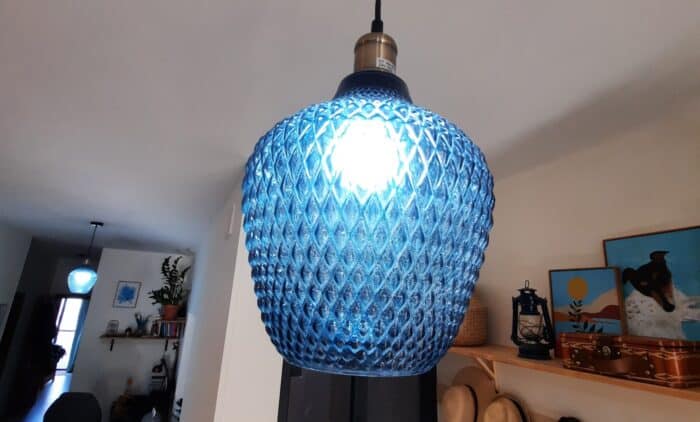 DIY pendant lamps – glass painting
I kept building my Pinterest inspiration board already a year before we moved into our new apartment. I totally fall in love with the idea of having sea-blue pendant lights around my home. The ideal spot was the corridor, previously with two flower classic style ceiling lamps. I calculated as I would like to add one more additional lamp, just by the entrance to create a diagonal line and a more cohesive look. This meant for me as I will be searching for 3 blue pendant lights for my ceiling.
I found some perfect candidates but all of them were pricy! A single lamp was between 100 and 200 euros, and yes, my project is very much on a budget. It was impossible to get what I wanted a second hand, and the cheapest option I found at OK Home was this beauty, however still a bit pricy:
My idea and research
When scrolling on different online stores in Malta, I realized that the same lamps, but in the colored versions, were doubled or sometimes tripled in price. It gave me an idea! What if I buy the transparent pendant and paint it myself? I was researching online if someone painted their lamps, but I didn't find anything solid. I read more about glass painting, technique, endurance and decided to give it a shot.
For this project what I needed was the paint – I got mine from MTS Malta, some acetone to clean the brush, and pendant lamps. I found perfect lamps at The Atrium, although I don't think they are still available.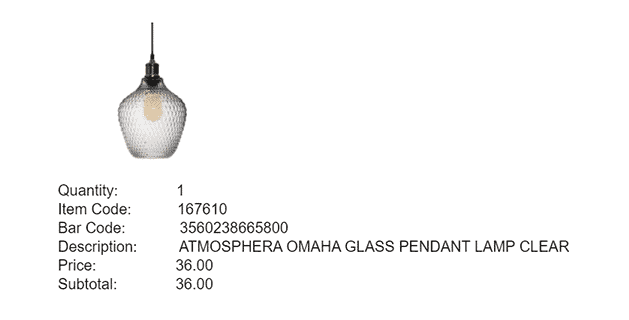 Painting
The lamps had arrived super quick and I was able to start painting. One thing that I didn't like so much, was the fact as the lamps were a bit darker than on the picture on the website.
I poured some Vitrali paint into a jar, added a tiny bit of dissolvent, and started painting. I had to be quick not to leave strokes, as the paint was drying up.
Here you can compare one lamp which was painted with 2 coats of vital paint, and on the left original color.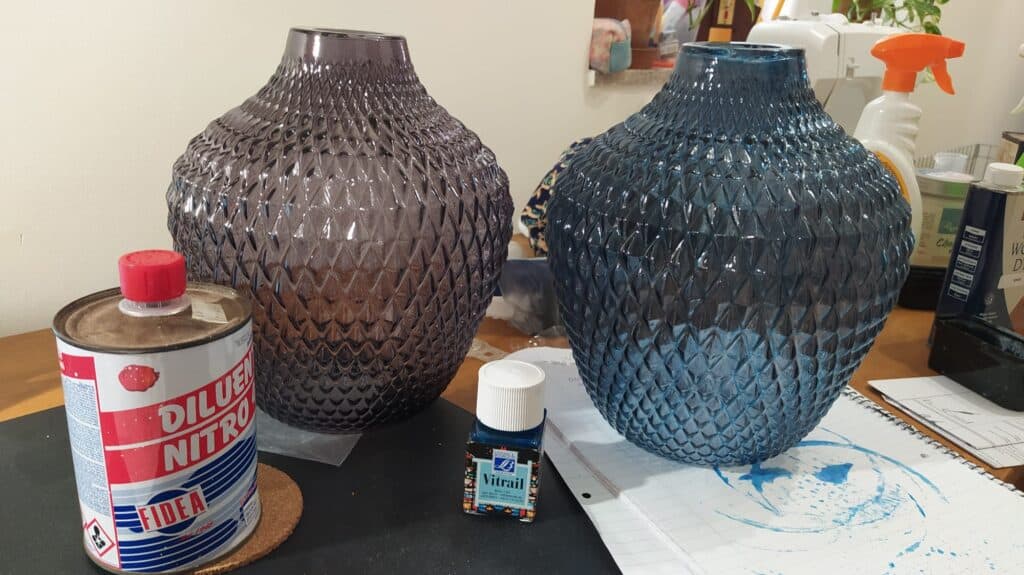 The result of my DIY pendant lamp
As I already mentioned before, we had to install one additional lamp to create a line between all three. Hence you can see the hole in the ceiling. In the picture, lamps look like different colors due to the light. The middle one has a window next to it, which was making it more see-through.
What do you think of the result, because I am super happy! I have dreamed of blue pendant lamps, and I didn't have to spend a fortune! According to my calculations, the cost of buying blue lamps from OK Home would be 267 euros, where I did spend 118 euros on the lamps plus paint. Which makes almost 150 euros back in my pocket!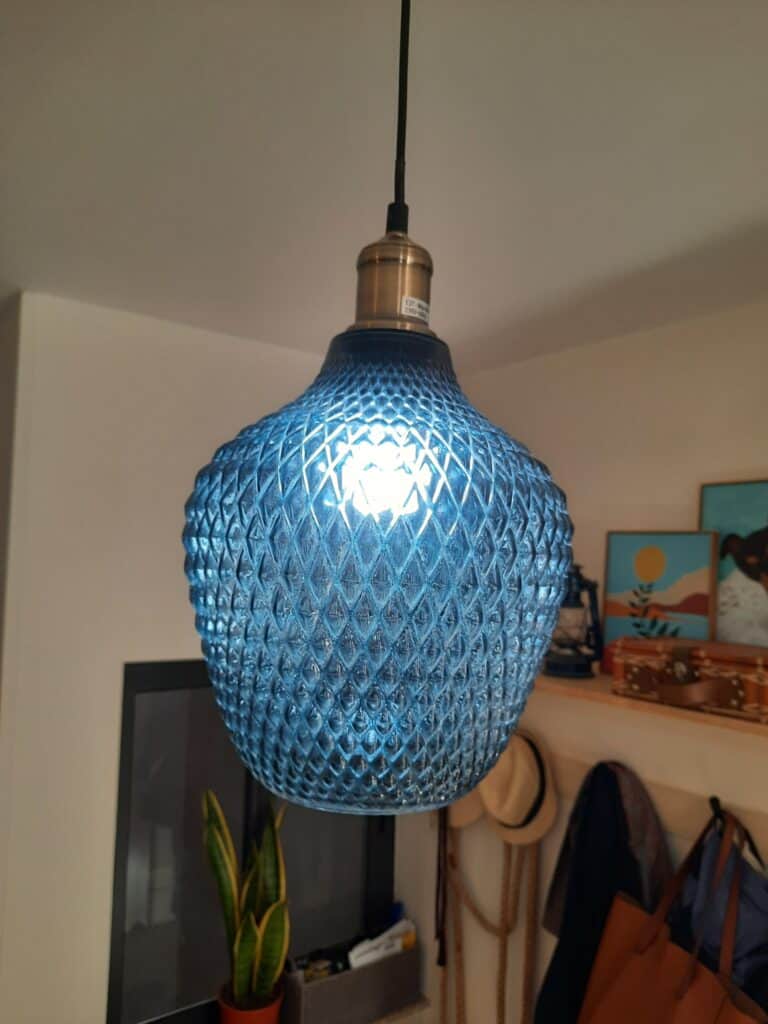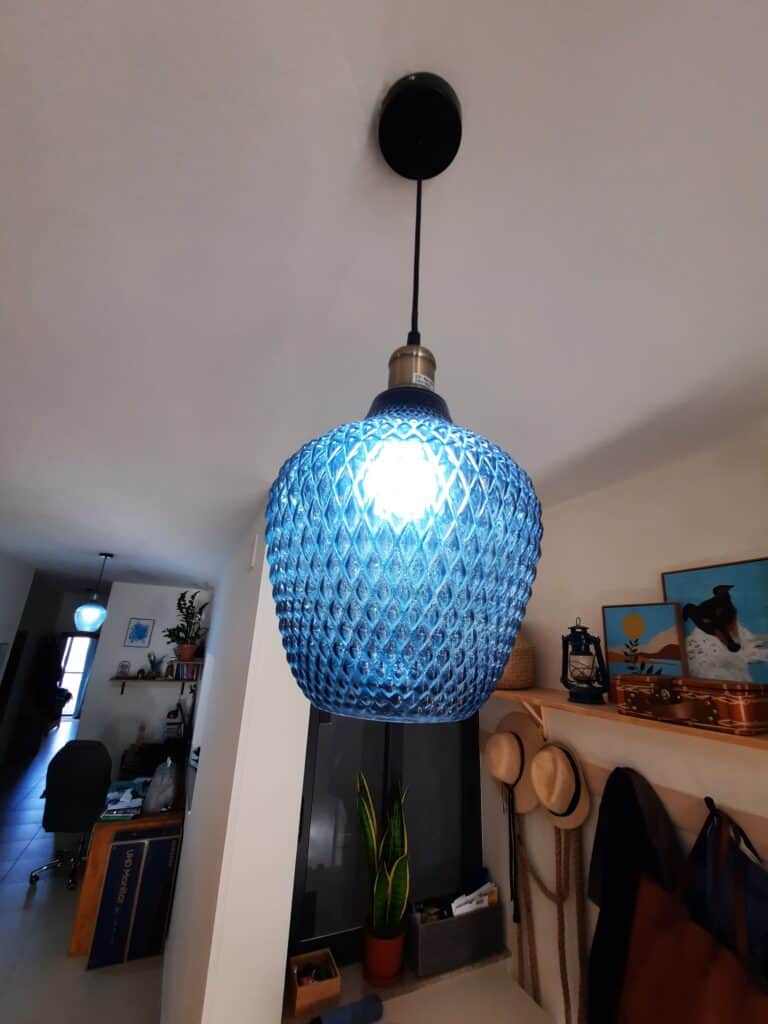 Check out more of my DIY projects!