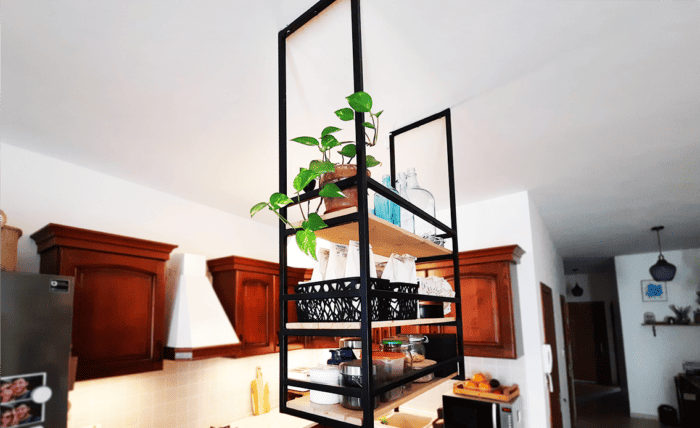 I really love the idea of ceiling-hanging shelves. It just seems super practical, space-saving, and stylish piece. A piece that I thought would be perfect to have above our kitchen island. Originally I just wanted to buy it. Unfortunately, no shop offered such items. Then I decided to get someone who is a welder to put together two rectangles from metal and the rest I would do myself. I started messaging some people who are welders to get pricing but their answers were too painful for me! The price for just a frame with two sides (not 3 like in the picture below) was estimated between 220 and 370 euro, depending on who gave me the quote. I was really sad. This is home refurbishing on a budget. I wasn't sure if I want to spend so much on this idea.
The solution came
Then speaking to one of my family members it clicked that he knows how to weld and moreover he would be super happy to help us. It took him around 1,5 hours to put all pieces together, and he said that the metal pipes cost him around 30 Euro. This was much much much better for my pocket. Thank you so much for helping us out!
Additional resources
Wooden pieces for shelving I purchased from Homemate. I sanded it, stained and put a clear top coat for protection. The most expensive part of this project was a nice slim light from IKEA ( STRÖMLINJE ordered via Megastore) with a special driver to be able to control it together with the rest of my light. I run the wire through a tiny hole in the wood, inside of the pipe, up all the way to the ceiling. There it was connected to the wire we left for that purpose. We still didn't find a nice way to cover up a tiny piece of wire on top of the ceiling, but I'm hoping to get to this detail later on.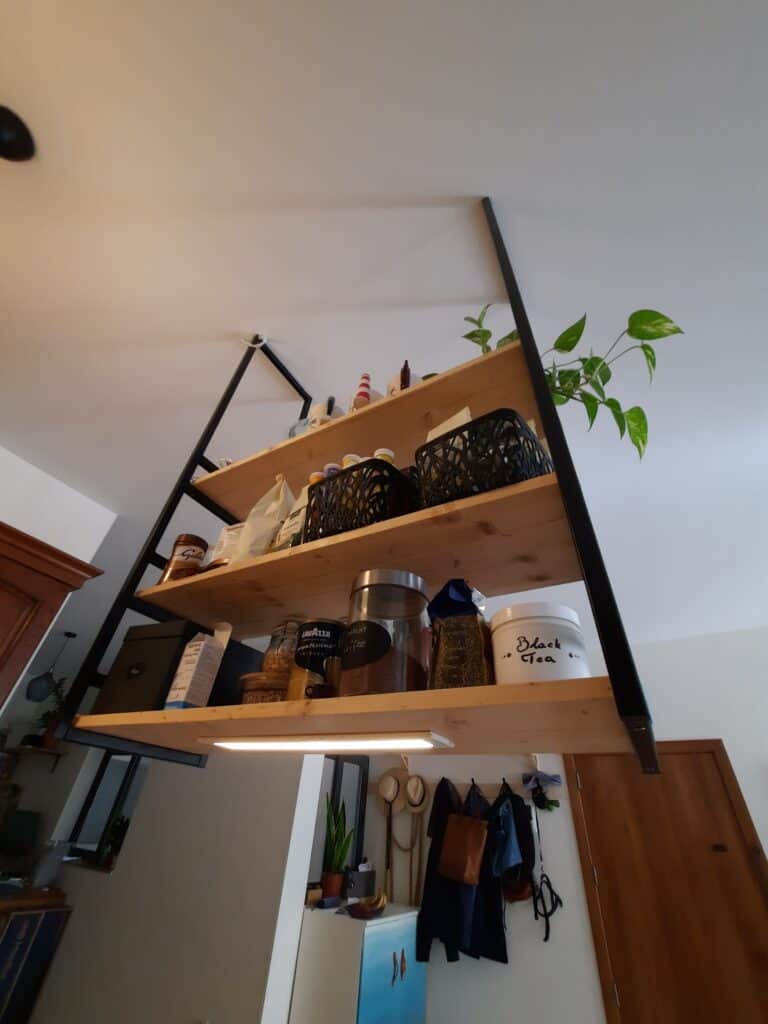 The brackets we mounted with 3 massive screws and fishers on each side, which were supposed to carry weight up to 300kg.
Ceiling shelves ready
I still didn't have time to properly set up my items on the shelves. I'm tea junky and I think this will be mainly a tea/coffee spot.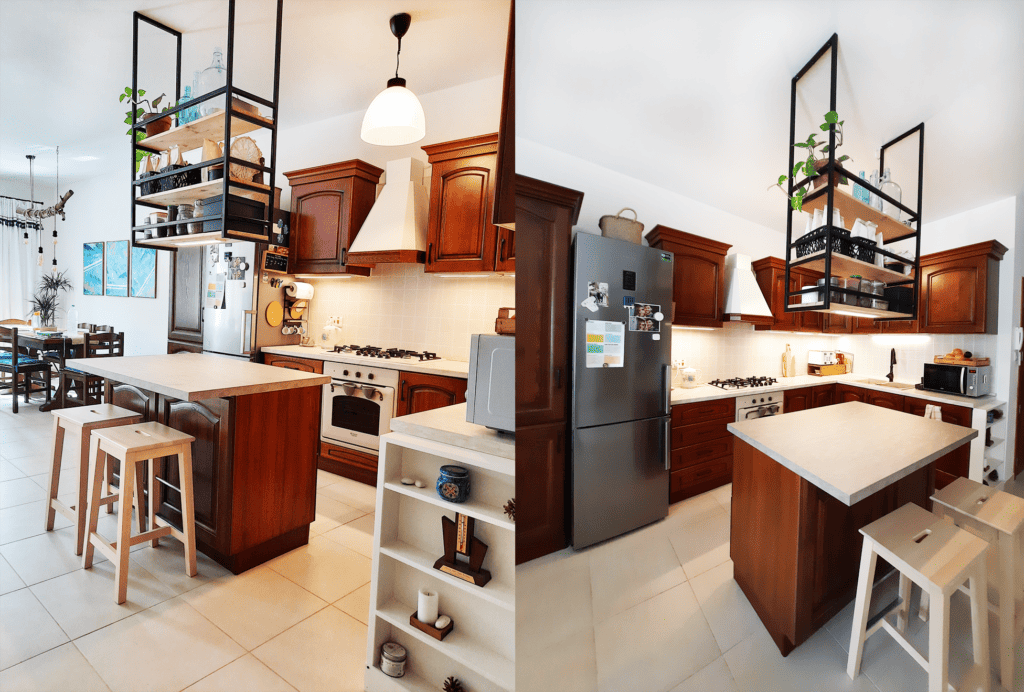 Making it myself together with help of a friend helped me to save some money. Only on the brackets themselves, I saved around 200 euro!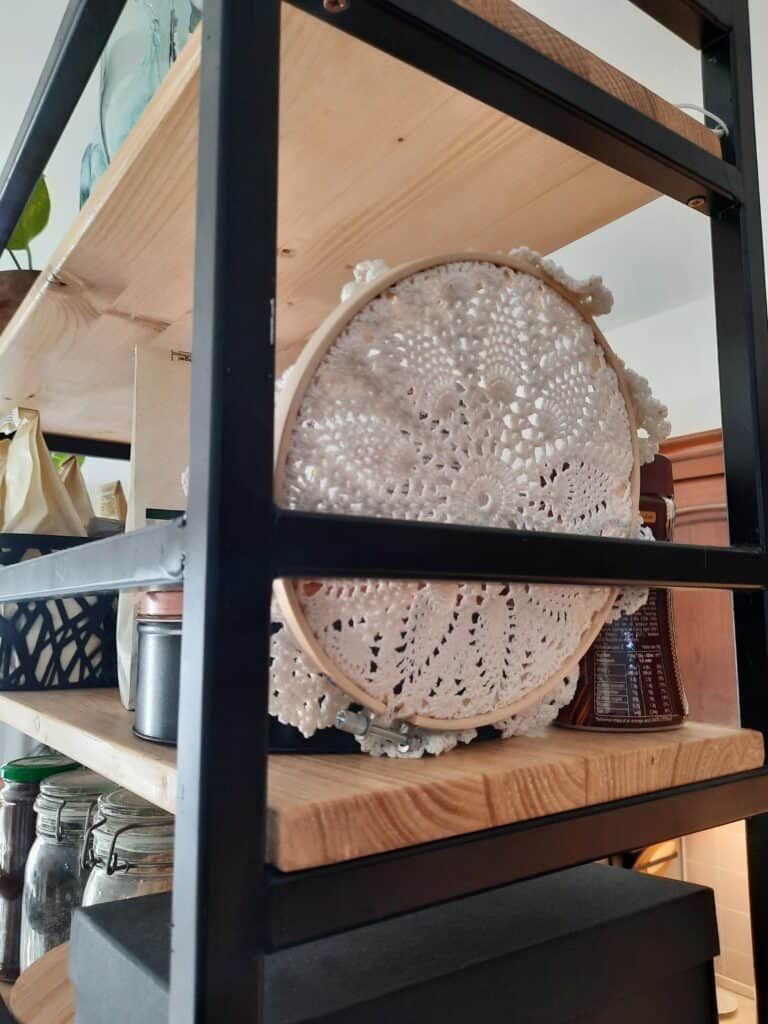 It wasn't a fully me-DIY project as I outsourced the most important part of this project. But as for now, I do not know yet how to weld! Who knows in the future!
If you would like to check out more of my projects, click here. What do you think of the ceiling hanging shelves? Would you do it at your home?