10 useful tricks and hacks for your home
Today I want to propose my own 10 tips, tricks, and hacks that I found super useful and applied at my own home. Everyone has their own way and personal preferences, but maybe some of my solutions can be found useful!
1. Use vertical space in your kitchen.
To maximize used space in my apartment I'm always trying to use some of the spaces that may not be obvious.  Since we are rather drinking wine once in a blue moon, I decided to place our wine rack on the fridge. Whenever I need to reach for something above my level (which happens way too often) I'm using my great hero – the Ikea stool!
2.  Save your home from plastic bottles and the hassle of carrying it
This was a big game-changer for us. When I arrived in Malta in 2016, I heard one thing all the time: just don't drink tap water and you will be fine! Amongst people here, there is a massive belief that Maltese water is just toxic and can make you sick. First I was playing along and getting bottled water which is suuuuuuper annoying for 2 reasons:
You need to carry these heavy bottles and if you do not have a car it's even bigger hassle.
It produces so much plastic waste. In Malta, they don't do PET bottles collection in special machines, so all of the bottles just go to the grey bin with the hope someone will recycle it. But before, you have to keep all this trash at home.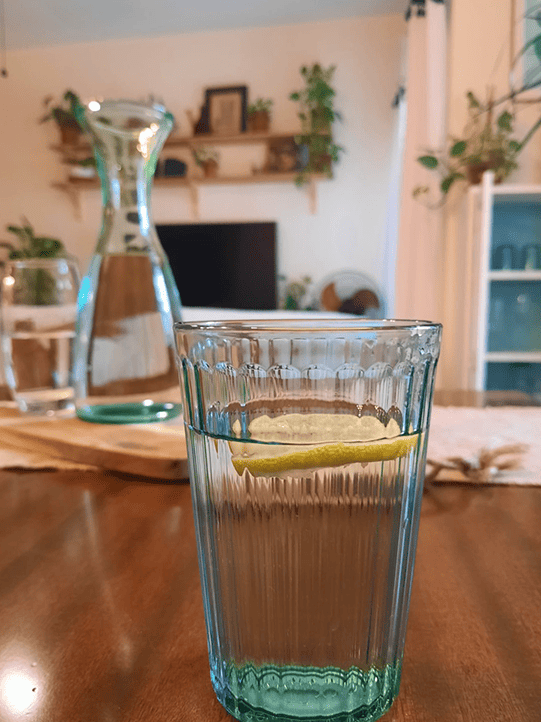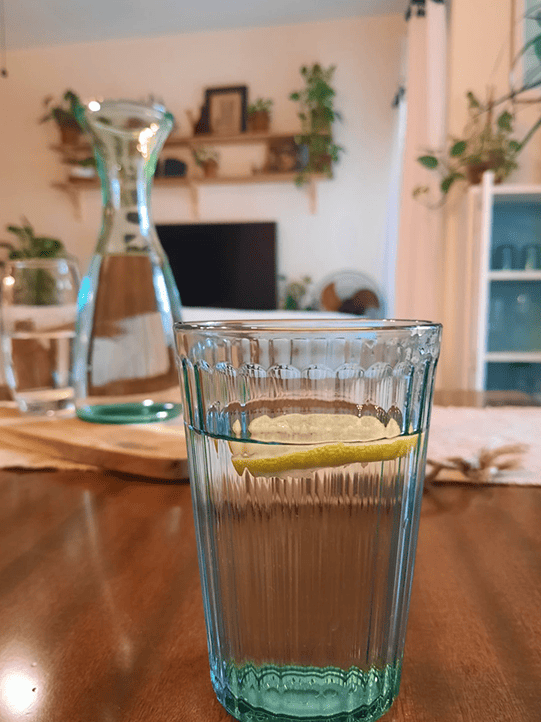 So when we already knew as we gonna move to our own home, we were researching more about maltese tap water, trying to end this bottled water madness. After debation and discussing pros and cons we decided to go with a tap filter by Aquarius Direct. It is something that you just install underneath your sink and every now and then change the filter for new (all depending on which one you are going for).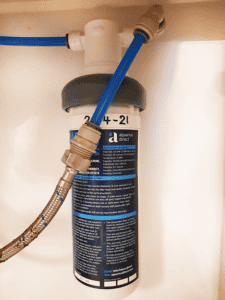 So far we are super happy with this decision and it increase our quality of life on a massive scale! I will write an entire post about our filter later on, so stay tuned!
If you are a Maltese resident you can benefit from a governmental grant on the purchase and installation of water purifying equipment. Find out more about it here!
3. Store your plates vertically
It started out of necessity, as one of our cupboards above the sink had already installed the dish dryier inside. It had this stand for dishes, so you can place them standing straight up. I just fall in love with this one and decided to put the rest of my plates standing upright as well! I had already an Ikea set called Rinnig, one piece of which I reused for another hack and the plate holder went into my cupboard. In addition, I purchased another Rinnig plate holder, which was around 4 euros from Megastore.
The advantage of having my plates stored vertically is:
It is easier to reach and take any plate I want without having to move all of them which is the case if they are on top of each other.
I noticed fewer scratches and damages on my plates, which happens sometimes when they are on a pile.
It just looks so neat!
4. Create a magnet pocket for your fridge
As I was ordering some items from Megastore, I realized that some of them are protected with very cute cartoon ends. Let's be honest, I just love to reuse the trash so I kept it. Shortly after I found a great use for it. I had some super strong magnets and I placed them at the back of the box using grey tape. I replaced my old planner with waste collection, by spraypainting a black rectangle on that box. Using a white chalk-like marker I wrote a new schedule.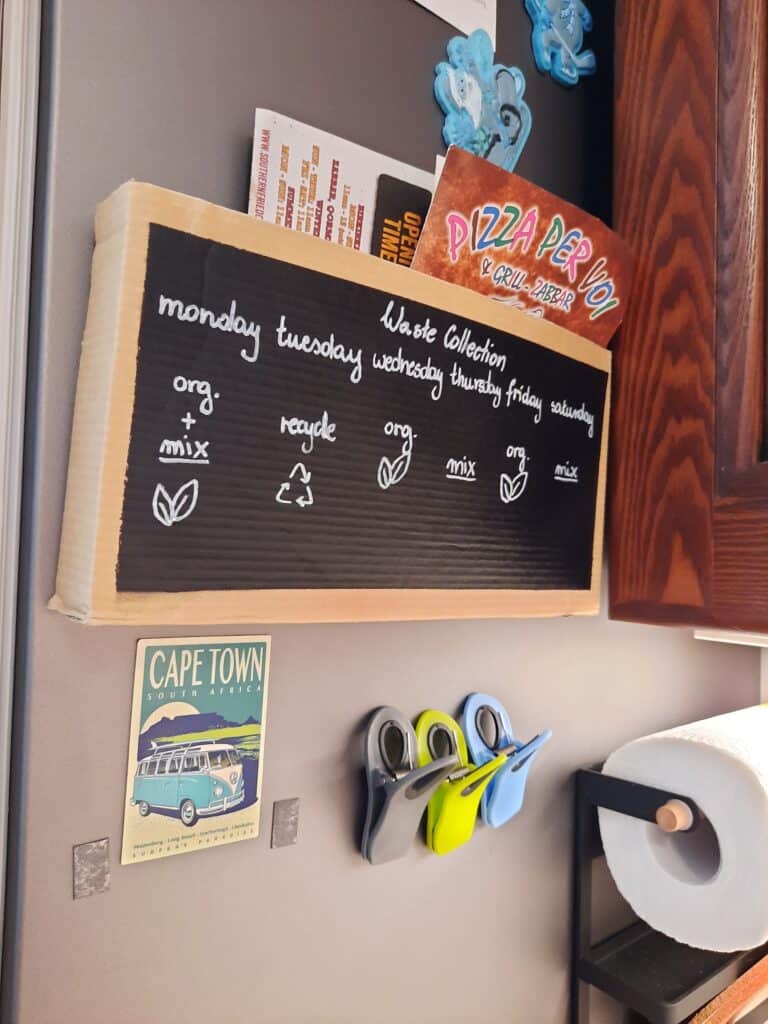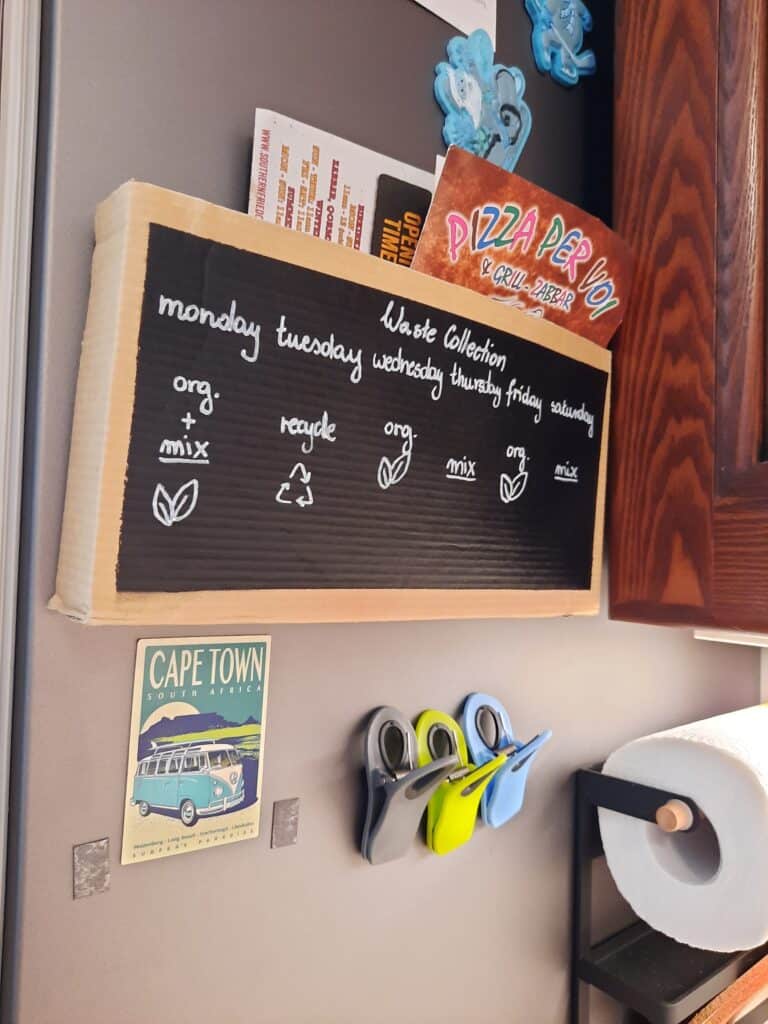 It looks much neater than the old schedule plus in this pocket, I can store much more papers and useful flyers which usually I would just stick on the fridge. As we are already on the fridge topic, check the next hack!
5. Get a magnet hanger for your espresso cups and kitchen towel
There is no DIY, I just bought it from Joom. But I still think it's such a great way to organize some bits and pieces in the kitchen. I love the fact that to install it doesn't require any drilling or double-sided tape, just a magnet!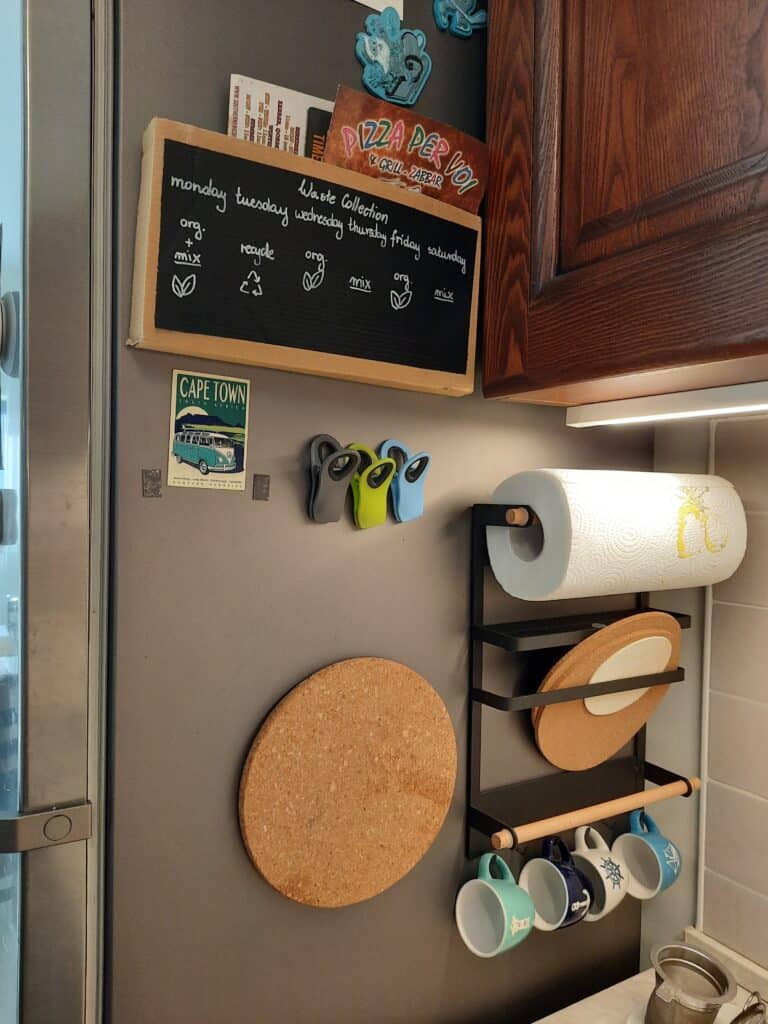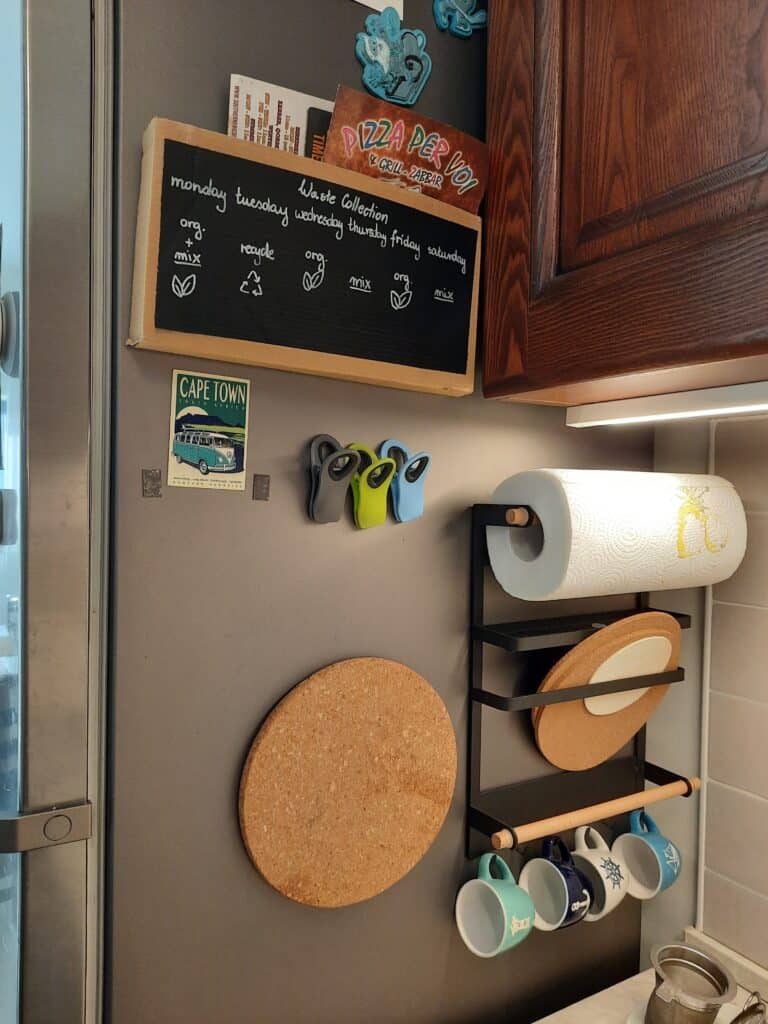 6. Hide your ugly gas bottles
This is my hack for the super small balcony which needs to have additional function as gas storage! I wrote an entire post on that so if you are interested in how I made it, check it out here!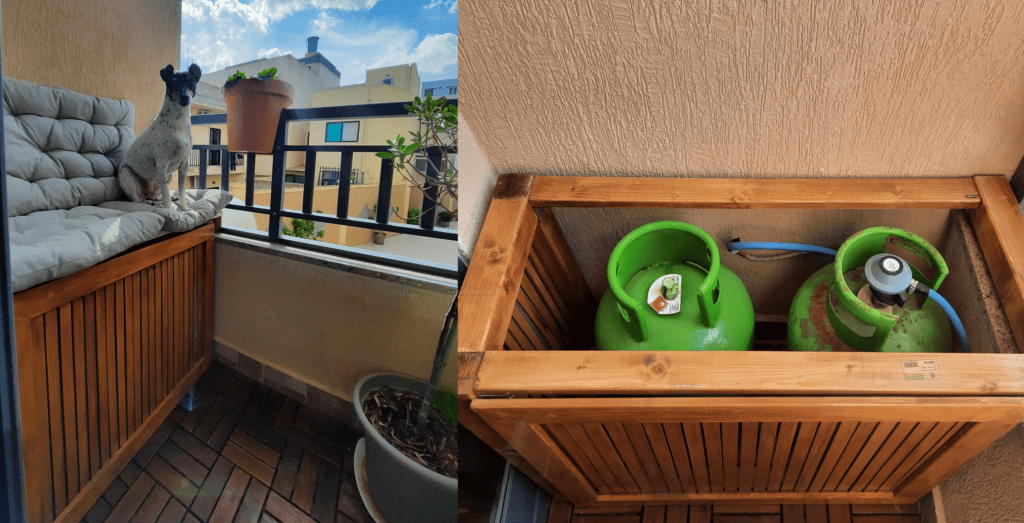 7. Create a dish soap dispenser
As I already mentioned above, I had at home Rinnig set from Ikea. I didn't want to just get rid of it so I decided to reuse this cutlery stand for a dish soap organizer. I placed two cute glass bottles filled with hand soap and dish soap. On the small platform next to it, I keep the dish sponges. I put some letter stickers on the bottles to mark which one is which, and voila!
8. Add an extra slim shelf to your cupboard
It happened that I had an extra shelf when installing this pantry cupboard, and I decided to add it at the height just enough to fit small items, which usually are getting lost between bigger items.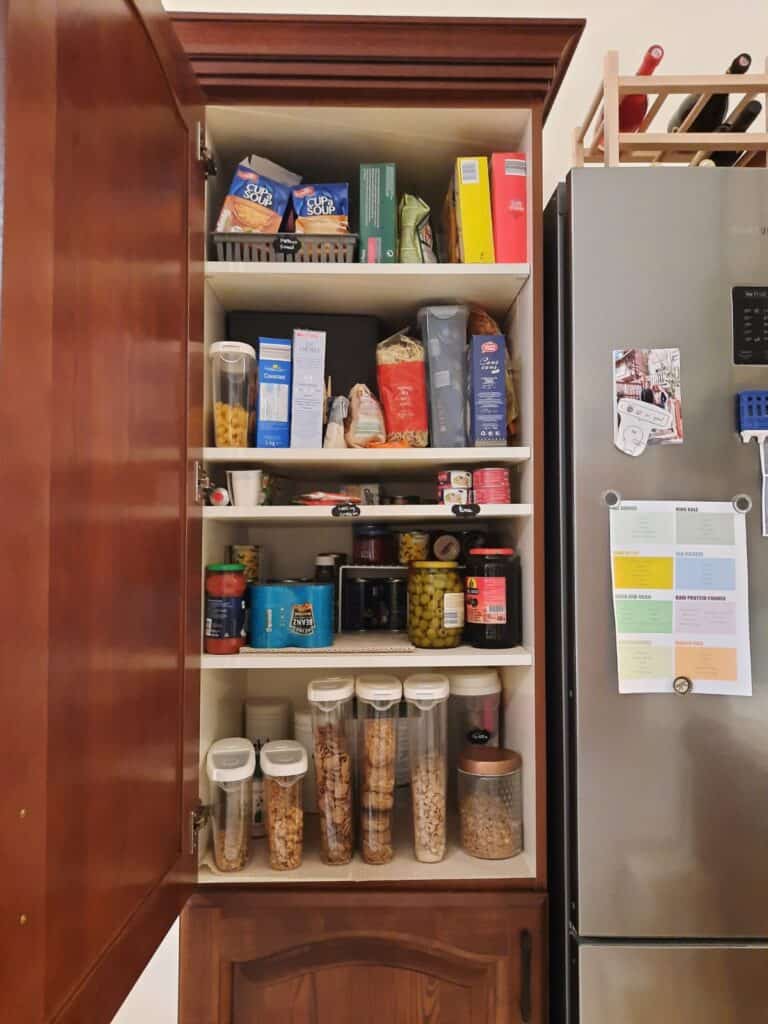 9. Repurpose veg tray from Lidl
Once when shopping I forgot my mesh bags for fruits and veggies, so to avoid taking plastic once I took a wooden box in which they were storing apples. Once I had it at home I decided to keep it. I used sandpaper to smooth the wood, applied some wood stain to get rid of this awkward shade. I sick some protectors underneath, to avoid any scratches on my microwave.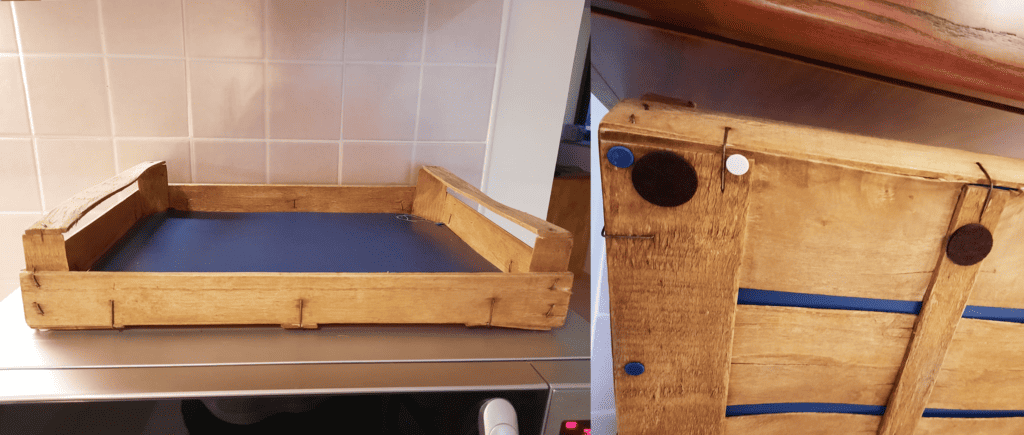 10. Hide your trash
I'm not sure if this is something that bothers only me, or it's something that only in Malta is very common, but let me explain. Every apartment that I was renting in Malta and even apartments and houses of friends and families I know in here had their trash bins in the middle of the kitchen. Or even when they placed them somewhere aside,  still they were very much visible. I believe this is due to the huge amount of trash we produce. In addition, there are no common bins in the neighborhoods to dispose of your bin bags.
When designing my kitchen I planned for two more cupboards to be dedicated just for the trash purpose. This one in here, for now, has a bin for small recyclable items plus on a side, I leave it empty for the bulkier bits.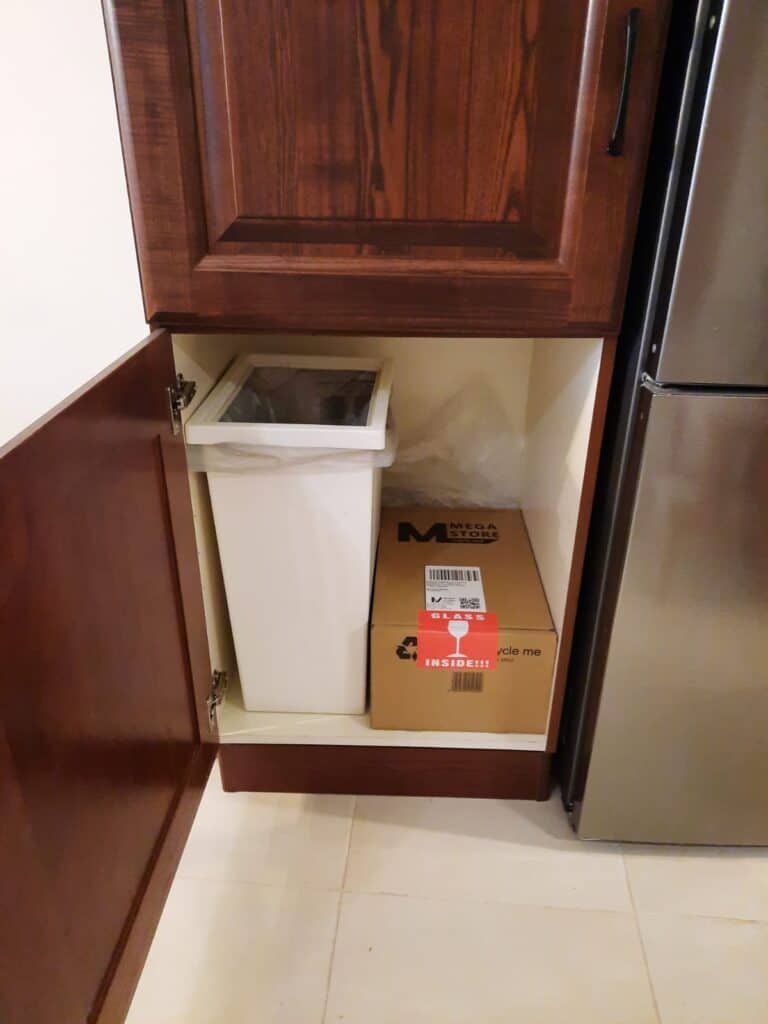 Not having to look at my trash all the time gives me more joy to stay at our apartment.
Which one of 10 hacks for your home is your favorite? For me, it's definitely a water filter!
You can check more of my DIY projects here.